Smart energy solutions must be discussed when one tries to understand the current Chinese economic environment. In three of our publications already, we described Chinese engagements in electric cars, green buildings and renewable energies, and we showed the challenges that the Chinese authorities faced to fulfill these commitments.
In this April article, we offer you a critical synthesis of different reports by the National Reform and Development Council of China (NRDC), the World Bank, the US Trade Ministry and other global players. Indeed, we noticed that all these reports coincide in three points: China needs to develop an efficient management system for its energy distribution and consumption, AI technologies can be of some help (see VVR's article from last month), and whatever happens in China will most probably be of global importance in the domain of energy.
China, a global leader in reducing carbon emissions?
With the Paris Agreement, China definitely took a leading role in the fight against carbon emissions. This strategic choice in terms of international relations, was also dictated by its internal situation, namely the alarming atmospheric pollution rate. China is thus becoming a laboratory of the energetic transition for developing countries: indeed, in 2016, coal was still amounting for 62.6% of China's energy mix (US Trade Ministry). Besides, Chinese energetic challenges are typical of developing countries: a fast-speed urbanization rate and the development of rural zones, both increasing the country's needs in energy. These latter increased by 6.6% in 2017, compared to 5% the year before (Global Energy Statistical Yearbook). Overall, China's energy consumption could increase by 40% on the next 15 years (World Resources Institute).
An unefficient electric grid
Large Chinese investments have been announced in renewable energies, but worldwide analysts agree on the assessment that nowadays Chinese production in renewable energies is overly wasted because it is not connected to the country's grid. This grid is a monopoly of two State-Owned enterprises, so it is hardly accessible to foreign businesses. Nonetheless, it is interesting to know that the State Grid Corporation, responsible for 80% of the national distribution system, has published large investments targets in smart meters (they plan to install 280 million of them by 2022) as well as automatization and distribution systems (investments worth USD 7billion by 2020).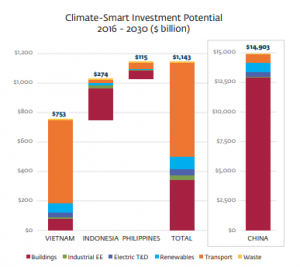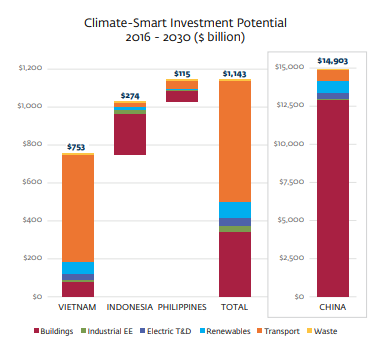 Source : International Finance Corporation (World Bank)
Building, work in progress
Thus, green building is a priority of the 13th Five-Year Plan; in theory, half of the new constructions should be "certified" green. However, higher costs and delay in getting the certifications often deter private promoters for engaging in green building. As such, the clients looking for smart grid technologies are often the local authorities: the China Daily reported that 290 cities already launched a smart city project, amounting to 95% of the provincial capitals. These projects are likely to have a global impact: Kuala Lumpur already showed some interests in the Hangzhou's City Brain (a project launched together with Alibaba and Foxconn). Some nuance needs to be done here: most of the projects we read about are located on the East coast, and especially in Shanghai, Zhejiang, and Jiangsu, as these provinces dispose of the suitable development and urbanization state for such projects as well as financial resources.
70% of the energy in China is going to the buildings today, 60% of which (around USD 100 billion) is wasted because of outdated or broken equipment (China Economic Review). And it just happens that 70% of carbon emissions come from cities, one third of them from the electricity consumed by buildings (NRDC).
The International Finance Corporation (World Bank) identified green buildings as the sector that will receive the most investment by 2030 in China: an amount estimated at USD 12.9 trillion.
All in all, to solve the gap between electricity offer and demand in China, the central government, local authorities, and State-Owned enterprises all turn to smart grid and other smart energy solutions. Both public and private actors in China seek to attract innovative start-ups around events such as Arup's forum on green building (Shanghai, April 2 and 3) and the Smart Energy China Fair (focusing on IoT) and the Energy Storage China Fair (both in Tianjin, on September 19, 20 and 21). The first one claim to be the locus of discussion on public policies in Shanghai while the other two invite government officials to speak at conferences.
Which place for European companies?
Able to produce equipment at low costs, China is now looking for smart energy and smart grid technologies, which often come from the West. Some American start-ups are thus already present on the market.
Some challenges to the entry of foreign businesses in this sector should be pointed out. Firstly, there is an overall preference for local actors. One reason for that might be the fact that energy is strategic for any country's government. Secondly, also due to national security concerns, Chinese authorities increasingly require that the data processed in big data technologies should not leave the Chinese territories, obliging foreign businesses to develop facilities in China. Solutions exist to these challenges, one of them is to find a Chinese partner. Lastly, another obstacle might be the lack of unification in urban policy, making this environment complex for a foreign actor not acquainted with the Chinese system to understand. Besides, policies are not always implemented. For instance, the objective to reduce carbon emissions as a part of China's GDP by 40 to 45% between 2005 and 2020 had to be lowered. In China, terms such as "green" or "environmental" are mostly political or used for communication purpose, and they rarely fit with the European definitions.
Owning innovative technologies, European and French are fit for the Chinese smart energy market. During the Smart Mobility Forum which happened in Marseilles last February, French businesses showed their dynamism and innovative spirit in the domain of smart energy (although the focus of the forum was mostly transportation). Besides, France already stepped in the Chinese market: in 2016, EDF launched a smart energy project with Changfeng Energy for the city of Sanya, to reduce the carbon emissions of this town.
By Manon Bellon